Getting here (Cannes)
Airport: Located approximately 20 kilometres/30 minutes away, book your flights to Nice Côte d'Azur Airport (NCE).
To switch from the airport to cannes, there is the bus "210 CANNES" :
Car: Cannes is linked to all major European cities. On the A8 motorway, "La Provençale", take exit Cannes La Bocca or Mougins/Cannes.
Train: The city has excellent links via TGV, Corail train and express train linking Cannes to all French regions and major European cities.

Once in Cannes, you may use the public transport network : "PALM BUS" bus services

The conference will be on two sites : Palais Miramar (Thursday 7th) and Campus Georges Melies (Wednesday 6th and Friday 8th). We recommend to find a Hôtel or Airb'n'b or equivalent in the following areas :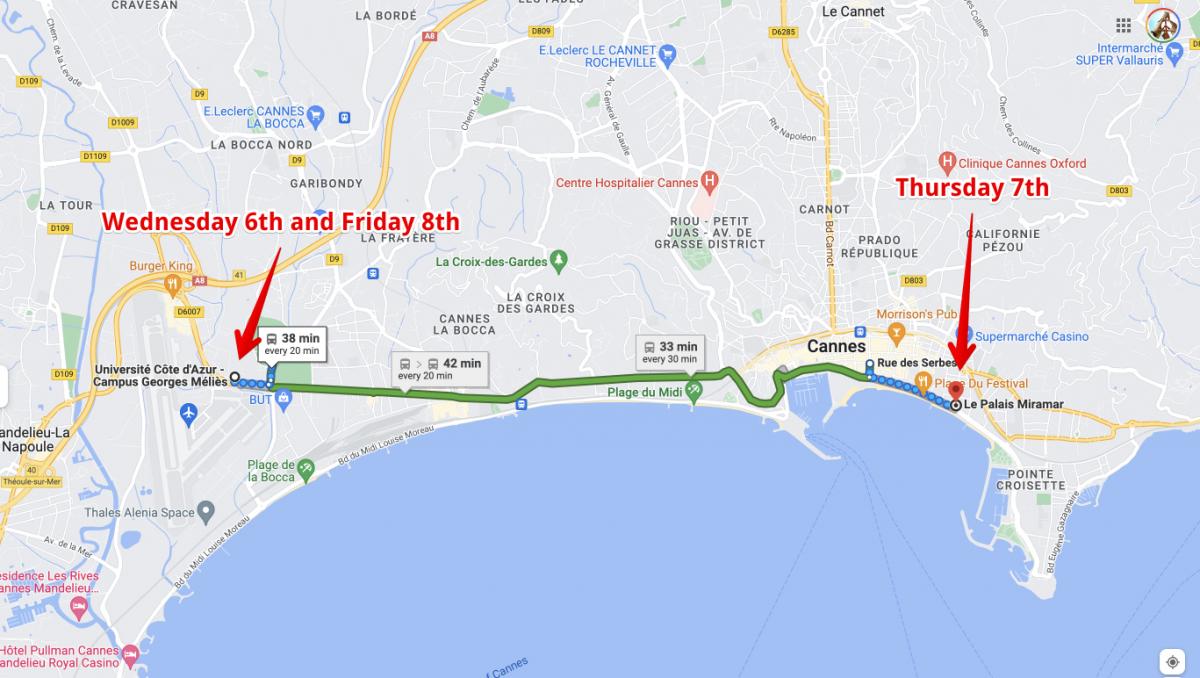 Palais Miramar (July 7th)
Address: 65 boulevard de la croisette -  06400 Cannes la Bocca
To switch from "Georges Méliès" Campus to the "Palais Miramar", you may use the Palm Bus :
at station "Saint Cassien", take the line A to "

Gare SNCF de Cannes - Centre Commercial

" (railroad station). The duration of the trip in the bus "A" is about 20 minutes
at "Gare Maritime" station (in the port) take the line 18 "

City Palm - Navette Centre Ville

Palmbus"
alternatively, instead of getting on the "navette" (line 18), you may walk for 1.1 km along the festival palace and the croisette.
Campus "Georges Méliès" (July 6th and 8th)
Address: site "La Bastide Rouge", 214 Avenue Francis Tonner - CS 40022-  06156 Cannes la Bocca
Bus stations :
From Cannes > "Saint Cassien" station, Lines Palm Express A - 1 - 17 - R4 

From Mandelieu > "Saint Cassien" station, Line Palm Express A 

From Ranguin > "Palais des VIctoires" station, Line 1
You can download the
map the campus (the building) from the page on the University Côte d'Azur Website
.
A list of Hotels
To help you find a hotel, here is a non-exhaustive list. We are not responsible for the quality of these hotels and we list them here because they have a good reputation. We have not negotiated any particular rates.
Cannes la bocca
Hotel les Tourrades :
https://www.hotellestourrades.fr
2 Chem. de la Bastide Rouge, 06150 Cannes
https://www.hotellestourrades.fr
Hôtel Kyriad Cannes Mandelieu
204-212 Av. Francis Tonner, 06150 Cannes- 04 93 48 21 00
Bus : Palm express et ligne A  arrêt Coubertin
:
https://cannes-ouest-mandelieu.kyriad.com/fr-fr/
B&B Hotel Cannes La Bocca Plage 
2-14 Avenue des Arlucs , 06150 Cannes
Hotel Restaurant de l'aéroport Cannes Mandelieu (ancien hôtel Campanile Cannes)
245 Av. Francis Tonner, 06150 Cannes- tel 04 93 48 69 41 
Bus A arrêt Saint Exupéry
Villa Maupassant
8 Rue de la Verrerie 06150 Cannes La Bocca- 04 93 90 44 00
Bus ligne 
23 Av. Francis Tonner, 06150 Cannes - 04 93 47 18 46
Bus : ligne 1et  ligne A  arrêt mairie annexe
Résidence La Palme d'Azur Cannes Verrerie
6 Rue de la Verrerie, 06150 Cannes•04 89 41 29 30
Cannes 
RésidHotel Cannes Festival 
107 av Francis Tonner, 06150 Cannes 04 92 19 59 59
MAEVA Home cannes villa Francia 
33 avenue Wester Wemyss 
06150
Cannes 
04 92 98 20 00
https://www.pierreetvacances.com/fr-fr/fp_CFD_location-maeva-home-cannes-villa-francia
Hotel Esperanto 
26 Av. Jean de Lattre de Tassigny, 06400 Cannes 
04 93 39 13 88
8 Rue du Commandant André, 06400 Cannes - 04 93 39 24 82
8 Rue Marceau, 06400 Cannes - 04 92 98 96 96
Hôtel Cristal
Hôtel des Orangers Cannes
1 Rue des Orangers, 06400 Cannes•04 93 39 99 92
Hôtel Atlantis
4 Rue du 24 Août - 06400 Cannes -  04 93 39 18 72
Hotel l'Hotera
14 Rue Du Vingt-Quatre Août , 06400, Cannes- 04 93 68 38 18
Arcotel
27 Rue des Serbes, 06400 Cannes - 06 17 98 59 31
Hôtel L'Estérel
15 Rue Du Vingt-Quatre Août, 06400 Cannes - 04 93 38 82 82